15 Jan 18, 02:23 PM

ladyflwr7: RIP Delores :0(
13 Jan 18, 02:15 PM

ladyflwr7: Happy Birthday Neevie !!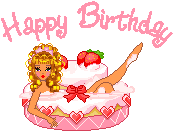 9 Jan 18, 07:41 PM

ladyflwr7: HAPPY BIRTHDAY
9 Jan 18, 10:01 AM

ladyflwr7:

7 Jan 18, 02:40 AM

tnsister74: Congrats to our new King n Queen hek and angel is our new royal pair!
7 Jan 18, 02:39 AM

tnsister74: Great video Boss with Michael Jackson and Fred Astaire.....enjoyed it.
31 Dec 17, 08:11 AM

tnsister74:
MDBFF, YOUR THE BESTEST!
31 Dec 17, 08:09 AM

tnsister74: That's what we do my dearest Angel....wouldn't be a den other wise! You've been there for me many times and I thank you mdbff.
30 Dec 17, 06:17 PM

ladyflwr7: My dearest Wendy, thank you for stepping up to the plate for me and the DEN members. You are really the best. Hoping I am back on my feet tomorrow. Love you bunches more mdbff
30 Dec 17, 09:30 AM

tnsister74: Thank you Angel and Hek....I also thank all of the denmates who joined in my birthday tour.....ty angel for running it, your the best!
27 Dec 17, 08:26 PM

hekell: Happy Birthday Wen!!
27 Dec 17, 05:07 AM

ladyflwr7: Happy Birthday
25 Dec 17, 05:14 AM

Jeff4Steelers:
Merry Christmas to all of you!!!
24 Dec 17, 08:06 PM

ladyflwr7:
Merry Christmas Den
21 Dec 17, 03:12 AM

tnsister74: MERRY CHRISTMAS DEN:
20 Dec 17, 04:30 PM

tnsister74: Happy Birthday Donna,,,,
17 Dec 17, 02:08 PM

ladyflwr7: Happy Birthday Donna
16 Dec 17, 07:51 PM

ladyflwr7:
Merry Christmas Den
10 Dec 17, 08:10 PM

tnsister74: I hugged my td on Jan. 28, 2015
10 Dec 17, 08:00 AM

ladyflwr7: Welcome back Tnkphntm